200 years of bicycles
The bike has a big anniversary this year: 200 years. It carries us through everyday's life and, especially in spring and summertime, it´s unimaginable not to have one of these popular vehicles. In addition, the bike became a lifestyle trend within the last few years. Discover our wonderful puzzles with the bright and colorful motifs of the series Bike Art.
The Art of Tara McPherson – WOW!
The "crown princess of poster art" (ELLE magazine) contributes much coolness to the Heye puzzle program. No wonder! Also Depeche Mode, Ray-Ban or even Sony ordered Tara McPherson´s art. Powerful puzzles, with are – after finishing and sticking it together with puzzle glue – a stylish wall decoration.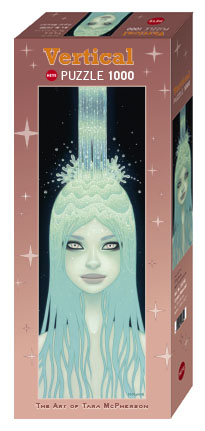 Wandschmuck gefällig
Neben unseren exklusiven Puzzles bietet Heye Kalender eine breite Palette hochwertiger Produkte. Hier finden Sie nicht nur unsere "Klassiker" wie Helme Heine, Mordillo und Loriot, sondern auch spektakulären Naturaufnahmen, Tier-, Sport-, Kinderkalender und vieles mehr.

Unser Presseservice

Aktuelle
News
,
Pressetexte
und
Abbildungen
zu all unseren Kalendern finden Sie in unserem speziellen Presseportal
KALENDERBLOG
. Hier gibt es außerdem die neusten Meldungen aus der Athesia Kalenderverlag GmbH GmbH, zu unseren Künstlern, Autoren und Fotografen, sowie Porträts, Pressestimmen und weitere interessante Branchenthemen.